Ancillaries
Besides manufacture and export of Oxygen / Nitrogen plants, Acetylene Plants and Nitrous Oxide plants, we can also supply you with the following ancillaries. Tailor made items can be offered to suit specific requirements.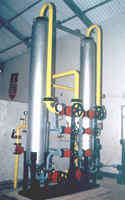 Sanghi-Molecular Sieve Battery:
To remove moisture, Carbon-di-oxide & traces of Acetylene and other hydrocarbons consisting of 2 dries filled with molecular sieve along with regenating electric heater. Temperature sensors & control panel with temperature controller. Each vessel of Molecular Battery is filled with molecular sieve of 1.5/3 mm type 13-X. This is regenerative type capacity 400m3/hr to 2000 m3/hr and 12 hour regeneration cycle.
Sanghi-Purifying mass & L K Mixture:
A mixture of purifying mass & L K Mixture is used to remove unpurities such as Sulphur, Phosphorus, Arsenic, Ammonia etc. in the form of hydrides such as Hydrogen sulphide, Phosphine etc. This chemical is regnerative, can be used for several applications.
Sanghi-Org Distribution Panel For Oxygen / Nitrogen Plants: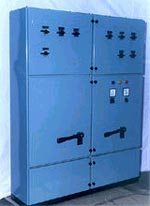 Sanghi-Distribution Panel For Oxygen / Nitrogen Plants:
This is a free standing, non-compartmentalised Structure housing the starter feeders for all the drives required for the Acetylene Plant / Oxygen plant and is fabricated out of CRCA steel & is surface treated to international quality standards. It has a front opening and has adequate cabling space. The panel is dust-proofed using double-lipped Neoprene rubber gaskets. The door hinges are concealed and have a back-up channel to ensure proper dust-proofing. The wiring is done with black PVC insulated stranded Copper wires & the wire terminations are identified with PVC ferrules.
Sanghi – Valves for cylinders:



Oxygen / Nitrogen / Acetylene / Argon Cylinder valves with SS304 spindle & Teflon. This cylinder valve is fixed to a gas cylinder by screwing & its essential functions.
To enable filling of gas into the cylinder.
To ensure proper storage of the gas inside the gas cylinder.
To release the gas as and when required.
To act as a safety device for the cylinder if valves are provided with safety.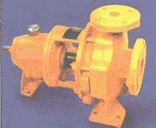 Sanghi-Water Pump:
The centrifugal Monoblock pump is of close grained cast iron construction. A statically balanced impeller is fitted to give maximum output at low running cost. RPM 2880; 3.0 H.P.; Power Supply 3Ph; 50 cys; 400 / 440 Volt; A.C. Supply capacity.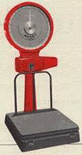 Sanghi-Weighing Scale:
Dial Scale 3205 CLE / COE Capacities: - 100, 200, 300, 500 & 1000 Kg. White pointer with black indicator to give shadowless line-to-line (non-parallax) indication on 584 mm dia. Ready line . Scale mounted on four wheels enclosed in a substantial cast iron frame. Tough, dust proof and moisture proof housing to stand up to any conditions. This ensures no rusting and no deterioration of the mechanism components.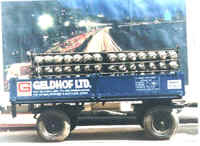 Sanghi-Oxy / Nitr Cylinder Trolley:
A battery of cylinder mounted on a trolley with wheels that can be transported and used where the consumption of the gas is more. These mounted cylinders are interconnected with individual isolation valves with pressure gauge. This product will immensely help in saving transportation cost and cylinder handling.


Sanghi Water Softner Plant:
Custom built water softner plants with flow Capacities ranging from 0.7m3 / Hr to 12m3 / hr with an output per regneration ranging from 8.1m3 to 203m3 max. working pressure 3.0kg / cm2.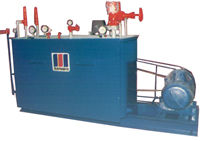 Sanghi-Compressor for Dissolved Acetylene:
This is used for filling of the cylinders a reciprocating, oil lubricated, multi-stage, water submerged compressor with intercoolers, safety relief valve for each stage, driven by a 15 HP. Flame proof.

Sanghi-Cooling Tower:
Induced draft Rotary sprinklers in FRP casings with electric motor 3 HP / 960RPM with or without basin in different capacities from 500 LPM to 1000 LPM.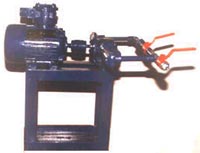 Sanghi –Acetone Pump:
It is a geared motor pump coupled with motor by love-joy coupling. The pump has two parts mainly suction port and the discharge port. The suction port is provided with extended pipe and foot value to reach the bottom of the acetone drum.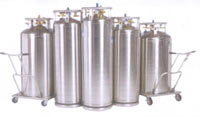 Liquid Gas Cylinders
LGC's are small liquid cylinders with in built pressure building & evaporating coil to allow both gas as well as liquid withdrawal. It can be transported to & from customers site with liquid filled in just like high pressure gas cylinder. This facilitates larger quantity of product transfer in liquid form than in Gaseous form. It is ideal for Liquid N2, Oxygen, Argon CO2 & N2O.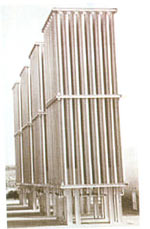 Vaporizers:
High Pressure Atmospheric Vaporizer for LOX/LIN Design.
Construction of Tubes : Copper
Construction of Frame : Mild Steel
Operating Pressure & Design Pressure will vary depending upon the users requirement. However, the Vaporizers from operating pressure of 8 Kg/cm2g to 200 Kg/cm2g are available.
The Vaporizers are used for converting the liquid form of product (i.e. O2,N2,Argon) to the gaseous form. This transformed gas can be supplied in pipe line through Low Pressure Vaporizer or can be filled in cylinders through High Pressure Vaporizers .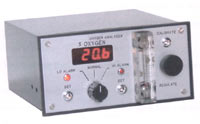 Analysers
We offer online, digital, electronic analysers with mounting & portable type for monitoring purities of Oxygen, Nitrogen, Argon and other gases. This indicator is a convenient and handy instrument for field applications where a quick, easy and accurate measurement of oxygen is required. The sensor being located within the instrument requires the gas sample to be delivered to inlet port. This instrument is ideal where the sample is available at a slight positive pressure.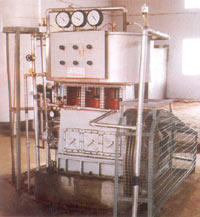 Gas Compressors

This is a reciprocating machine, with crank gear, piston rod, piston, cylinders. The machine is used for building up pressure of Oxygen, Nitrogen, Nitrous Oxide gas for filling the gas into Cylinders. These are available in various capacities and consist of following :
Control Panel consisting of Pressure Gauge for All the Stages and Oil Pressure, and manual unloading Valves, Gas Coolers after all the three stages, Safety Valves for all the three stages, N.R.V. at Delivery, Belt Guard, Tool Box, Flywheel, Fiber Buckets for all the three stages, Motor Pulley.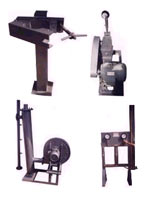 Cylinder Testing Equipments
The cylinders testing equipment is necessary in the bottling plant, as the cylinders used for filling Gas needs to be tested periodically. This consists of the following:
Hydraulic Pump, Cylinder Vice, Cylinder Rack, Cylinder Drier with Blower and Heater, Control Panel Stretch Board with Glass and Brass Tubes, Pressure Gauges Connecting Pipes, Spanners and Tools, DOL Starter, Low Voltage Lamp for Internal Viewing of Cylinder.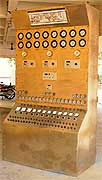 Futuristic Control Panel
This futuristic and advanced control panel of the Air separation unit can be located in an air-conditioned room to operate and control various plant parameters. It has been ergonomically designed for ease of operation and for fine tuning of plant parameters from a remote location. This panel has unique features with digital display, indicator lamps and instrumentation for indicating pressures and temperatures of all stages of Air compressors. It also has on-line digital electronic analysers for displaying and monitoring purity of gaseous oxygen, ultra high purity nitrogen and waste nitrogen. It also indicates ampere ratings of all motors used in the plant.