About Us

M K Sanghi
SANGHI ORGANIZATION, the Engineering Division of M. K. Sanghi Group of Companies commenced manufacture of Industrial Gas Plants for producing Oxygen, Nitrogen and Acetylene Gases in the mid 80's. The Company has a sprawling manufacturing complex in Taloja near Bombay. The present range of manufacture of the Company include Oxygen Plant ranging from capacities 40 Cu.m. per hour to 1000 Cu.m. per hour, Nitrogen Plant ranging from capacities 60 Cu.m. per hour to 1000 Cu.m. per hour and Acetylene Plant of capacities 45 Cu.m. per hour and 200 Cu.m. per hour and Nitrous Oxide Plant 8 cu.m./Hr to 24 cu.m./Hr.
Mr.Mahendra Kumar Sanghi is the Chairman and Managing Director of the Group. He is supported by his sons Vaibhav Sanghi and Ashwin Sanghi.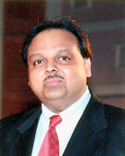 Vaibhav Sanghi
The Oxygen/Nitrogen Plants being medium pressure plants, consume very low electricity. Beside this advantage, our plant can also simultaneously produce a good commercial grade of Nitrogen Gas without any additional manufacturing cost. The other salient features are : a versatile Liquid Oxygen Pump, sturdy design absorbed from a leading German manufacturer, long operative life, etc. The regularly consumed spares/components are available ex-stock from our Taloja Works and ensure trouble free operation of the Plant.
The Acetylene Plants manufactured by SANGHI ORGANIZATION conform to IS-8471 (PART-IV) 1977.  We are approved by the Bureau of Indian Standards and Dept. of Explosives, Nagpur. The Pressure Control and MERCOID Switches fitted to our Acetylene Generator are imported from USA as original equipment. All the above features make our plant, the safest and most economically viable in these capacities.

Ashwin Sanghi
The SANGHI ORGANIZATION range of Industrial Gas Plants are operating in various countries such as Malaysia, Indonesia, Iran, Sharjah, Abu Dhabi, Qatar, Mauritius, Gambia, Nigeria, Dubai, Syria, Uganda, Tanzania, Argentina, Peru, Ecuador, Sultanate of Oman, Saudi Arabia, Nepal, Honduras, Kenya, Chile, Cyprus, Egypt, Ghana, Guatemala, Portugal, Romania, Sri Lanka, Zimbabwe etc.
Mr.Vaibhav Sanghi, Director is very optimistic about the dominant role that can be played by the company in supplying medium pressure plants in the developing economies of the world. Our plants are ideal for entrepreneurs and for industries that have regular requirement of oxygen and acetylene gases.
The company has an in-house R & D Wing which constantly review the designs and regular upgradation of the manufacturing process is carried out. The Company is in the threshold of doubling the export turnover in the current financial year.
For more information about the M.K. Sanghi group and its activities, please visit www.mksanghi.com.