OUR DIRECTOR SPEAKS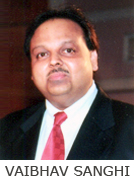 "I am extremely happy to be able to share with you a few of my thoughts and the philosophy of our company.
The core business of Sanghi Organization is to manufacture and supply Power efficient and Good quality plant and machinery for the manufacture of Industrial and Medical gases, at fair and reasonable prices to our customers worldwide.
We have the necessary infrastructure and adequate personnel consisting of highly qualified engineers to assist you in the supervision of erection and commissioning of our plants. This is to ensure that the setting up of your project is smooth and trouble-free.
We always maintain adequate inventory levels of spare parts, which in turn will ensure easy availability to you at short notice. We adopt stringent Quality control measures during various stages of sourcing, manufacturing and assembly.
We, at Sanghi Organization are a part of the M.K. Sanghi Group of Companies and follow the philosophy of "Growth with spirit of conservatism, consistency and conscience".
We recongnize that growth is essential for any organization in today's global environment and competitive market place.
However, at the same time, the word conservatism follows, as we would like to ensure that our growth is built on strong and sound foundation. We therefore look to making a long term relationship with our clients.
We also recongnize consistency of product quality and service will be our strength in the long run and are involved in continuous development and improvement of our products.
The word conscience ensures that whatever business we do, will be fair, ethical and benefit all concerned, be it our customers, employees, bankers, shareholders i.e. each and everyone associated with us.
I would like to take this opportunity to invite you personally to become a member of our family."
Yours sincerely,

Vaibhav Sanghi